The Pamelyn Ferdin Web Page
All about the ubiquitous 60s and 70s actress
Filmography - Fan Mail - Interview - FAQ - News
---

For "Lassie" circa 1975

Click images for high-res versions.
---
Jump to the latest news about Pamelyn and this page. Please send me your memories of Pam!
---
Summary of Pamelyn's Acting Credits
All info assembled from various sources on the net, contributions from visitors, and from credits from Pamelyn. There's a pretty good filmography for her on the Internet Movie Database, and that's where most of these summaries point. It looks like they've cribbed a lot of information from this page, too! If you remember Pamelyn from some other appearance, send it to me in e-mail.
1959
Pamelyn was born February 4, 1959.
1962
"Leave it to Beaver" - No, that's not Pamelyn in a cameo in a 1962 episode of this series - although it looks like her! It's actually her sister Wendy.
1964
Pamelyn in 1964.

What a Way To Go (Movie 1964) Had a one line-cameo at end "What do you think I am, a baby?" (Summary)
The Littlest Hobo (TV 1964) "The Babysitter" (Summary)
Breaking Point (TV 1964) "The Summer House"
1965
Bewitched (TV 1965) "Eat at Mario's"
Never Too Late (Movie 1965) (Summary)
Andy Griffith Show (TV 1965) "Girl Shy" and "Bazaar" (as Corlis? (Source)
Jonathan Winters Show (TV 1965) (Summary)
Baby Makes Three (aka Baby Crazy) (TV pilot 1965)
The John Forsythe Show (TV 1965-66) As "Pamela" (Summary)
Tracy Stratford, "Susan" on this show, was the voice of Lucy van Pelt in the first Peanuts special, the December 9, 1965 appearance of "A Charlie Brown Christmas".
1966
The Reluctant Astronaut (Movie 1966) Don Knotts movie, short cameo. (Summary)
Mr. Bubble commercial (YouTube)
Glass Wax commercial (YouTube)
Valley of Mystery (TV, Movie 1966) Uncredited cameo.
Bob Hope Chrysler Theatre (TV 1966) "City of LA" and "Free of Charge"
Andy Williams Show (TV 1966)
Bing Crosby Show (TV 1966) "Manpower"
| | |
| --- | --- |
| | Branded (TV 1966) "A Proud Town" |
Road West (TV 1966)
Danny Kaye Show (TV 1966)
Jesse James (TV 1966) "A Burying for Rosie"
| | |
| --- | --- |
| | My Three Sons (TV 1966) "Fly Away Home" |
Stranded (TV pilot 1966)
Death Valley Days (TV 19??) appearance
Mad Mad Scientist (aka Guess What I Did Today) (TV pilot 1966)
1967
Family Affair (TV 1967) (Michele Tirone's fantastic web page and episode guide) (IMDB Summary)
"Mrs. Beasley, Where Are You?" Mr. French drops Mrs. Beasley from the terrace (episode 7, 1966) "Melissa"
"The Birds, the Beas and Buffy" Uncle Bill and Mr French have hard time finding the right way to explain the origin of babies to Buffy and Jody. (episode 31, 1967) "Wendy"
"No Uncle is An Island" The children decide they will leave Uncle Bill alone for the week-end for he can rest peacefully. (episode 89, 1969) "Jennifer"
"The Joiners" Buffy is very proud to have been accepted in a club for older girls, she doesn't know it was because of Uncle Bill's generosity. (episode 134, 1970) "Shirley"


Pamelyn in "The Joiners" episode
Images courtesy of Michele Tirone, as captured from French television.
Daniel Boone (TV 1967) "Requiem for Craw Greene"
Custer (TV 1967) "To The Death"
The Monkees (TV April 17, 1967, episode 31, first season) "Monkees in the Movies" When the starring role in a 'beach party' movie goes to Davy, the others have to bring him down to earth. Features "Last Train To Clarksville" and Bobby Sherman.
Pamelyn's in the credits, but she's never on-screen. Sleuthing by visitor Jeff Hoback reveals this Monkees page which explains "The characters of The Girl (portrayed by Pamelyn Ferdin) and her Mother (portrayed by the late Aileen Carlisle) were given credit in "Movies"' end titles and Screen Gems Storylines entry, but were never actually filmed for the penultimately aired segment. According to the original synopsis for "The Monkees In The Movies," the girl shoves her mother forward and announces she sings. The mom lets fly a voice that can be heard for miles, and Kramm, Philo and The Monkees join in on the ear-splitting audition." (Summary)
1968
The One and Only Genuine Original Family Band (Movie 1968) (Summary) Laura Bower.
Nominated for Best Performance by a Juvenile Actress. Also stars a young Kurt Russell and Goldi Hawn.
An exclusive image and message from fellow child star Vernon "Mark" McDougal. "I was in the 1968 Walt Disney production of The One and Only, Genuine, Original Family Band with Pamelyn. I have a studio picture of us together with Walter Brennan, Butch Patrick, Bobby Riha and Andrea Sacino in the 'Schoolhouse Scene'."
From the right, Walter Brennan, unknown, Vernon McDougal, Pamelyn Ferdin. Butch Patrick, aka Eddie Munster, stands at right. To his right is Teresa Candy Warder.
Second Hundred Years (TV 1968) "Luke's First Christmas" (Summary)
This series also starred Majel Barrett-Roddenberry.
The Flying Nun (TV 1968) "The Reconversion of Sister Shapiro"


Pamelyn in "The Flying Nun"
| | |
| --- | --- |
| | Gunsmoke (TV 1968) "The Money Store" |
Green Acres (TV 1968) "Instant Family"
Star Trek (TV 'And the Children Shall Lead,' season three, episode four, aired October 11, 1968) "Mary Janowski" (Summary)(Deutsch)
From http://www.polaris.it/startrek/classic3.htm and http://server2.powernet.net/~jcrafton/ comes this:
60 AND THE CHILDREN SHALL LEAD Oct 11, 1968, written by Edward J. Lasko, directed by Marvin Chomsky, music by George Duning. Stardate 5029.5: Kirk and the crew, visiting a scientific colony on Triacus manned by several human families of the Starnes Expedition, are shocked to find that all but the children have died violently - and the children do not seem to care about anything but playing. Aboard the Enterprise, the children gradually begin to influence and take over the minds of the crew as part of a plan by their "friendly angel," a seemingly benevolent alien called Gorgon who uses children as a means of spreading his influence, and unless he can find some way to expose Gorgon's true intentions, Kirk will become a prisoner on his own ship. Guest Cast: Craig Huxley (Tommy Starnes), James Wellman (Professor Starnes), Melvin Belli (Gorgan), Majel Barrett (Nurse Chapel), Pamelyn Ferdin (Mary), Caesar Belli (Steve), Mark Robert Brown (Don), Brian Tochi (Ray), Lou Elias (1st Technician).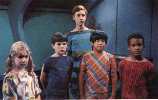 Sadly, both the Hackman and Usenet ratings guides of the Star Trek original series episodes rank this episode at the very bottom of the list, making it the all-time least-favorite TOS episode, so it must have camp value.
It also stars Melvin Belli, also known as the lawyer who defended Jack Ruby, the man convicted of murdering Lee Harvey Oswald.
According to Pam, "I had such a crush on Bill Shatner at the time, I followed him everywhere he went on the set, until he finally asked me to marry him and gave me a cigar band!"
Craig Huxley now operates a sound studio called The Enterprise Studio and was responsible for the "blaster beam" sound in "Star Trek: The Motion Picture."
| | |
| --- | --- |
| | Pam's autographed picture, circa 1968 |
| | Gene Kelly Special (TV 1968) |
| | Jerry Lewis at the Greek Theatre (TV 1968) Dancing, singing. |

The Woody Woodbury Show (TV talk show 1968) Dancing and singing, two or three appearances.
Recordings of The Woody Woodbury Shows no longer exist. Ralph Edwards said the masters and station copies had been erased. No kinescopes could be found. Even Woody didn't have any copies. Here's an interview with Woody. He also has a web site.
According to Pamelyn, "The husband of Judy Garland, Sid Luft, came up afterward and tried to sign me as an agent because my voice (I sang "Somewhere Over the Rainbow") sounded so much like Judy's rendition. Needless to say nothing ever came of it, but I remember doing the show very well.
1969
Blondie (TV 1968-69) "Cookie" (Summary) (YouTube Intro)
Pamelyn and her friend Pam Stedwell, playing at the studio on the Partridge Family bus after shooting an episode of Blondie. Exclusive personal photo courtesy of Stedwell. Pamelyn says she got her "first kiss" from friend Danny Bonaduce when they were age eight.

(Another fan points out an inconsistency in this memory: Blondie was filmed at Universal Studios, while the Partridge Family was filmed at Columbia Studios. Another fan points out that the Partridge Family didn't begin until a year after Blondie was cancelled. Later, Pam Stedwell found a second picture of this bus and it says "Magic Bus" so perhaps it was a 60s prop at Universal.)

Publicity shot for "Blondie"
Bruce Lee once had a walk-on appearance in an episode of this CBS television series, a spin-off of the successful comic strip and movies.
A Boy Named Charlie Brown (Voice) (TV 1969) "Lucy Van Pelt" (Summary)
Poet Rod McKuen wrote songs for "A Boy Named Charlie Brown", scored by San Francisco jazz pianist Vince Guaraldi, who won the 1970 Academy Award "Music - Original Song Score" for this work.
It Was A Short Summer, Charlie Brown (Voice) (TV 1969) "Lucy Van Pelt"
Images associated with her voice work for Lucy Van Pelt.

Other girls did the voice of Lucy, too, so that's not Pamelyn's voice in every Charlie Brown television special.
High Chapparal (TV 1969) "No Bugles, No Drums" and "For the Love of Carlos"
Daughter of the Mind (TV 1969) (Summary)
This 1969 ABC Movie of the Week received a 1970 "Edgar Allen Poe Award" for best writing in a television series.
Pam played Ray Milland's ghost-daughter.
It also starred Virginia Christine, otherwise known as Folger's ''Mrs. Olson.''
1970

This Saturday morning program certainly generated a lot of Pamelyn fans, myself included.
An excerpt from "Chuck Amuck," the autobiography of Chuck Jones, the animator responsible for many classic characters such as Bugs Bunny as well as "Curiosity Shop":

"For a year I was a vice president of the American Broadcasting Company, hoping to help the cause of children's television programming. With the help of the National Film Board of Canada, the Zagreb Studios, and many talented cartoonists such as Johnny Hart, Don Arioli of the National Film Board, and Hank Ketcham, Curiosity Shop was produced: a seventeen-unit one-hour program for Saturday morning. The program can be described in a kindly way as highly ordinary, it did establish in my porous but not always selective mind that short subjects and television specials were better arenas for talented cel washers and that seventeen anythings a year was beyond my powers. Perhaps, in the light of shows now disfiguring Saturday-morning television, beyond anyone's powers."
The Flying Nun (TV 1970) "Cousins By the Dozens"
Steve Allen's Hollywood Bowl (TV 1970)
| | |
| --- | --- |
| | Mannix (TV 1970) "Fly Little One" |
Play It Again, Charlie Brown (Voice) (TV 1970) "Lucy Van Pelt"
The Christine Jorgensen Story (Movie 1970) (Summary)
[Disney] Wonderful World of Color "Smoke" (Movie 1970) "Susie" (Summary)

From the TV Feature Film Source Book: "Drama of a stray German shepard dog who helps a young boy adjust to life with his new stepfather. Also starred Ron Howard, Earl Holiman, Jacqueline Scott, Andy Devine."

Image from "Smoke". Many more screen-grabs available from Dreamweaver's Child Starlets
| | |
| --- | --- |
| | Barbie commercial. I think you'll also see this print ad for sale on eBay now and then. |
The Forgotten Man (TV movie with Dennis Weaver) about 1970 (Summary)
What's the Matter with Helen (TV Movie 1970) (Summary)
1971
The Psychiatrist (TV 1971) "The Private World of Martin Dalton". Directed by Steven Spielberg. (Summary) This series didn't make much of a mark in history; there were only six episodes. Two episodes were directed by Spielberg. The other was "Par for the course".
Dr. Seuss: The Cat in the Hat (TV 1971) (Voice) "Sally".
Play It Again, Charlie Brown (Voice) (TV 1971) "Lucy Van Pelt"
The Odd Couple (TV 1971-73)
Pamelyn appeared in the first season "Bunny Is Missing Down By The Lake", episode 18. Later she had a recurring role as Edna, Felix Unger's daughter. (Summary)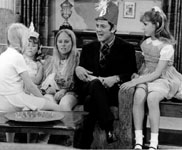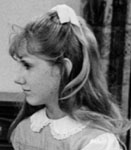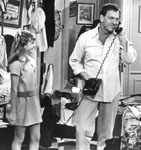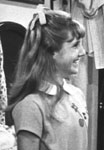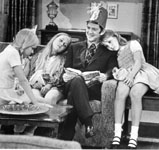 From episode 37, "Surprise! Surprise!" aka "Edna's Birthday Party", Friday Dec. 13, 1971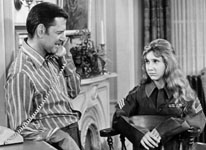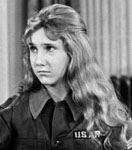 From episode 45, "Good Bad Boy", Feb. 11, 1971
The above images were graciously contributed by Jim's TV Collectables. If you'd like your own 8x10s of these original ABC photo releases, please visit his site. Jim Benson is working on a book about Rod Serling's Night Gallery, and plans to interview Pam regarding her appearance in the "Brenda" episode in 1975.
As pointed out on this Odd Couple Character bio page, Edna was played in later appearances by Doney Oatman, a blonde. Felix's son was also played by two young men, one of whom was Leif Garrett.


Pam on the left, Doney on the right. And Doney today?

Many people confuse Pamelyn Ferdin with Lisa Gerritsen a.k.a Lisa True Gerritsen, another ubiquitous teen actress of the same era who played a character named "Bunny" on "The Odd Couple", who like Pamelyn made at least four appearances as four different young girls on "Family Affair", and who played the daughter "Lydia Monroe" on "My World And Welcome To It" (1969-1970) with William Windom. She's well-known for her portrayal of Phyllis's daughter "Bess Lindstrom" on the Mary Tyler Moore show (from the very first episode onward) and the subsequent "Phyllis" series in 1975. ("Mad About You" Helen Hunt played Murray's daughter "Laurie Slaughter" in an episode of MTM.) In May 1971, Gerritson even made the cover of TV Guide.
According to possibly unsubstantiated second-hand Usenet reports, Gerritson is living happily in Colorado and gave birth to triplets a few years ago. Another said she had been working at a California software company. And in 2002, there was a fan site for her, too, but it's been taken over by click farmers.
Marcus Welby, M.D. (TV 1971) "A Portrait of Debbie"
| | |
| --- | --- |
| | From a letter from Robert Young: "Dear Pam, Just saw a private screening of 'The Portrait of Debbie" and was thrilled with the excellence and depth of your performance. It was a sensitive and touching portrayal for which you can be properly proud. Was equally delighted with your debut in 'Curiosity Shop' and was surprised to find that among your many outstanding talents you also sing. With every best wish for all good things in your future." |
The Delphi Bureau (TV 1971) "Merchant of Death" (Summary)
The Mephisto Waltz (Movie 1971) "Abby Clarkson" (Summary)
| | |
| --- | --- |
| | From "Mephisto Waltz": Pamelyn and a very 70s Alan Alda - but isn't he always? |
Pamelyn has a Bacon number of 2, thereby demonstrating her connectedness in Hollywood. William Windom was also in "My World and Welcome To It", "The Mephisto Waltz," and in "She's Having a Baby" (1988) with (tah-dah) Kevin Bacon. Other Bacon 2's are Liberace, Mr. T and Audrey Hepburn. (Calculation courtesy of Oracle of Bacon at Virginia. If you have no idea what I'm talking about, go there.) Windom was also "Commander Decker" in the Trek episode "The Doomsday Machine" if you're keeping track.
Happy Birthday, Wanda June (Movie 1971) (Summary)
Charlie Brown Special (TV 1971) "You're in Love, Charlie Brown"
The Brady Bunch, (TV 'Will the Real Jan Brady Please Stand Up?,' episode 42, January 15, 1971) "Lucy"
The Beguiled (Movie 1971) "Amy" (Summary)
| | |
| --- | --- |
| | Pamelyn in "The Beguiled." |
This is Clint Eastwood's second-least successful film in terms of box office, right behind Pink Cadillac, said the Man with No Name web page.
It's one of the very few films where Clint's character is killed. In this case, Pamelyn's character does the killing, by feeding him poison mushrooms.
It wasn't originally in the script, and she attributes it to Clint's inspiration, and it took her quite by surprise, but Pamelyn's character is passionately kissed by Clint's character. Read the interview with Pamelyn for her account of what happened.
Here's what "film comment" magazine had to say about it, including a bit about Pam's role.
"The Beguiled announces its singularity with a bold stroke in its very first moments. After the child, Amy (played by Pamelyn Ferdin), finds McBurney ... the soldier pulls the child down with him into the foliage to hide from them (Confederate Unit). He ensures her silence not by placing a hand over her mouth but by kissing her--long and hard, almost passionately. It is a totally unexpected moment and even a quarter century later, after we have absorbed so many cinematic shocks, it retains its capacity to startle and discomfort. Indeed, in the entire Eastwood canon (including its many and often discussed violent passages), there is nothing that quite compares to its unexpectedness. - from "Clint Eastwood: a Biography", Richard Schickel, (1996), p. 241.
1972
Charlie Brown Special (TV 1972) "Charlie Brown Goes To Camp"
The Roman Holidays (TV cartoon, 1973-, still shown on The Cartoon Network in the late 90s) (Voice) "Precocia"
Pam once said regarding her voice work for Hanna-Barbera, "Joe Barbera ... was and still is a gracious, creative visionary. He is a legend, and it's always an honor for me to sit and talk with him surrounded by his awards and all the classic cartoon characters he developed i.e., the Flintstones, Sylvester, the Jetsons, Huckleberry Hound, etc., etc. Doing animation was always one of my most favorite things to do, so if I could do some more of it that would be great, especially if the character I play could teach kids about compassion and respect for animals."
Here's a link to a great list and description of all the Hanna-Barbera cartoons maintained by Cassie Chamberlain-Veselovsky.
Banana Splits in Hocus Pocus Park (TV 1972) ABC Saturday Superstar Movie "Susie" - Not true!
"The Banana Splits transform into cartoon characters as they team up with a magician in an attempt to save Susie, a young visitor to Hocus Pocus Park, from the clutches of an evil witch in this ABC Saturday Superstar Movie." This aired November 25, 1972.
I've since determined, through the research of Ron Kurer at Toontracker.com, that this episode does not feature Pamelyn. Instead, "Susie" is played by Michelle Tobin.
1973
Marcus Welby, M.D. (TV 1973) "The Tall Tree"
The Paul Lynde Show (TV 1973-74) "Sally Simms" (Summary)
There's a "Paul Lynde Show" site on the web, too.
Many of the writers and production team for this show came from the then-recently cancelled "Bewitched." See www.tvparty.com for an overview of Lynde's career, including a RealAudio clip of the opener of the show. All of tvparty.com is very well done, too.
Doctor Kildaire (TV 1973) Appeared with Cloris Leachman.
Charlotte's Web (Movie Voice) (1973) "Fern Arable" (Summary)
Speaking of remakes, a new version of Charlotte's Web with human actors is due in 2006. Well, almost human! Dakota Fanning plays Fern.

There's plenty more at About.com.
1974
Apple's Way (TV 1974) "The Flag"
Shazam! (TV 1974) "Thou Shall Not Kill"
"A horse named Beckett that was set to be put to sleep according to the will of a favorite aunt after her death. Pamelyn Ferdin's character, Lynn, had bonded with the horse and was upset and tried to encourage her father, a sheriff, to rescind the execution. Meanwhile, the aunt's horse handler who was injured by Beckett which resulted in him having "a bum leg" would do anything to kill the horse.
The father/sheriff was caught in the middle, wanting to follow the law and please his daughter. After Lynn tried to help the horse to escape, it was trapped under a fallen tree pushed over by the evil horse handler with his jeep. Just when they were about to shoot the horse because they couldn't release him Captain Marvel shows up and lifts off the tree and then flies to the Judge 500 miles away to get a court order to rescind the execution." Description thanks to Shazam fan Wendolyn Johnson.
A Tree Grows in Brooklyn (TV Movie 1974)
These Are The Days (TV 1974-76) (Web site)
Lassie (TV 1971-73) "Lucy Baker" (Summary)
| | |
| --- | --- |
| | Pamelyn at the time of "Lassie" |
1975
Night Gallery (TV 1975) episode "Brenda", as "Frances Anne"
Love American Style (TV 1975) "Love + The Instant Father"
CHiPs (TV 1975) A fan said, "One of the guys saves her life, and she gets a crush on him."
Hallmark Hall of Fame movie, (TV 1975?)
Miles to Go Before I Sleep (TV 1975) (Summary)
"The Dating Game" appearance with Lassie (TV 197?)
1976
Sigmund and the Sea Monsters (TV 1976) Episode 2, "Puppy Love", as girl next door "Peggy" (Summary)
(Fan page) (Episode guide) (Links broken as of 2/99)
Johnny Whitaker, who played "Jody" on Family Affair and "Johnny Stuart" on Sigmund, found this web page and sent me an email note in February 1999, hoping to contact Pamelyn. "I do go by John or Johnny now," he said. "Thanks for an interesting site." There's a great background piece on Whitaker from Collecting Online at popculture.com. [Link lost.]
The Onion discusses Kroft-related Lidsville and Sigmund recurring nightmares.
1977
"The Streets of San Francisco" episode, (TV 1977) "Runaways" as "Chris Cavanaugh" (German summary)
In German: Die fünfzehnjährige Chris Cavanaugh fährt eines Tages heimlich nach San Francisco, um ihren Vater zu suchen, den sie lange nicht mehr gesehen hat. Als sie jedoch vor seinem Appartement steht, hört sie plötzlich einen Schuss fallen. Als Chris in die Wohnung tritt, liegt ein Toter am Boden - sie glaubt, es sei ihr Vater. Nachdem Lieutenant Stone und Inspector Heller ihr erklären, dass der Tote nicht ihr Vater ist, "vergisst" sie plötzlich, wie der Mann aussah, den sie aus dem Appartement herauslaufen sah.
In English: "Fifteen-year-old Chris Cavanaugh was driving home to San Francisco to find her father, who she hadn't seen in a long time. When she was finally standing in from of her father's appartment, she heard a gunshot. When Chris went into the apartment, she saw a body on the floor - she thought it was his father. Afterwards, she explained to Lieutenant Stone and Inspector Heller that it wasn't his father, and "forgot" that she saw someone leave the apartment." (Translation courtesy Steve Pietrowitz.)
Baretta (TV 1977) "The Runaway"
Space Academy (TV series 1977-79) (Summary)
She played a telepathic twin named "Laura". It also starred Jonathan Harris (Dr. Smith from "Lost In Space") as Commander Gampu, the 300-year old professor, as well as Peepo the robot, and Loki, the teleporting orphan boy, and super-strong boy Tee Gar, played by Brian Tochi, who played "Ray" in that ultra-bad Star Trek episode mentioned above. Space Academy lasted a single season, and was followed the next year by sequel "Jason of Star Command," using the same sets, models and props. On this show, James Doohan (Star Trek's "Scotty") played Commander Canaervon.
There's a Space Academy web site.
1978
The Toolbox Murders (Movie 1978) "Laurie" (Summary) (Summary)
By all accounts from those who have any positive memories of Pam, this was a dreadful movie. I haven't seen it yet. It's a horror flick involving a ski-mask-wearing voyeuristic psycho (ubiquitous but wacko actor Cameron Mitchell) in an apartment building who wreaks moralistic vengeance with power tools.
Vegas (TV 1978) 'Serve Volley And Kill', episode 12, appearance as kidnapped sister of a tennis player, "Katie" (Source)
Project UFO (TV 1978) "Sighting" (Summary)
A classic paranoia series, with Jack Webb as executive producer, and Col. William T. Coleman, the former head of the USAF's "Project Blue Book." Now what would Fox and Scully have to say about that?
This series had a guest appearance by Radames Pera in 1977, who played young Caine in "Kung Fu", and who also made an appearance on "Lassie" in 1974.
1979
240-Robert (TV 1979) Appearance as "Nikki". (Summary)
In German: Trap (John Bennett Perry), Thib (Mark Harmon) und Morgan (Joanna Cassidy) sind ein Rettungs-Team bei '240-Robert Search and Rescue'. Allerdings hat Trap mit der neuen Pilotin Morgan einige Probleme - für ihn ist sie zu jung und zu hübsch, um wirklich top zu sein. Bald aber werden die drei in lebensgefährliche Einsätze verwickelt, bei denen der Macho Trap erkennen muß: Morgan ist erstklassig! Als er ihr bei einem Helikopter-Flug seine Gefühle offenbart, ahnt er nicht, daß die ganze '240-Robert-Base' über Funk das Gespräch mithört.
In English: "Trap (John Bennett Perry), Thib (Mark Harmon) and Morgan (Joanna Cassidy) are a rescue team with ' 240-Robert search and Rescue '. However Trap with the new female pilot Morgan has some problems - for him she is too young and too pretty, in order to be real top. Soon however the three are entangled into lethal applications, with which the Macho Trap must detect: Morgan is first-class! When it reveals it with a helicopter flight its feelings, it does not suspect that the whole ' 240-Robert-Base ' monitors the discussion over radio." (Translation courtesy Babelfish.)
1982
Heidi's Song (Movie 1982?) (Voice) (Summary)
1985
A visitor to this page remembers a "Lassie" television reunion that may have taken place in 1985.
1986
Pine Sol and Avis commercials.
1995
1999
Detention! (TV 1999) Shelly Kelly (Voice)
---
"What has Pamelyn been doing?" and other FAQs
"What is she doing now?"
After leaving the acting business, Ferdin became a registered nurse. In that capacity, she met her husband, a surgeon, when they lived in Connecticut. Ferdin has always been involved in the cause of animal rights. She now lives in the Los Angeles area.
"Does she have any kids? I saw a girl in a commercial who looks just like her."
No, she doesn't have any children. On this issue, Pamelyn once said, "We have no children as I feel that until every child has a home (just like every companion animal), people should not breed!"
"Does she have a fan club?"
What, you want a 60s-style fan club, with an old guy in a dingy room in Hollywood signing and stuffing "autographed" pictures in response to endless bags of fan mail? Nah. No, not that I know of. Maybe this page is the closest thing to it. Check out her official web site. After all, our unofficial status makes us cool, no?
"How can I e-mail or write to Pamelyn?"
You can reach her at pamelyn@pamelynferdin.com where she truly reads the e-mail at her official site.
"What's her birthday?"
She was born February 4, 1959, which makes her 48 in 2006, of course. Yes, some references list her as being born in 1960, but she says she wasn't.
A visitor points out this was the day after "the music died," the day a plane crash took the life of Buddy Holly, the Big Bopper, and Richie Valens.
Disclaimer
I made this page because I always wondered what happened to Pamelyn. It seems almost a given these days that anyone's web page has to reflect their own personal sentiments and aspirations. Here I take a journalistic view, striving for objectivity in the reported events. I don't necessarily agree with everything that I've learned that Pamelyn believes in, and that's OK.
---
The Pamelyn Ferdin Interview
The Seattle 'zine Feminist Baseball is published by a Pam fan named Jeffrey Smith, and in the summer of 1995, he published a transcript of a telephone interview with Pamelyn.
It's about 45K of HTML, but click here to read it. It includes a detailed summary and commentary on her film and television career.
---
Here's where I'll post the latest changes to this page, to save you from scanning it all. Click here for my wacky prose poem that started it all, on an unadvertised Web page that lured the unwary search engine seeker of Pam.
News Flash archives from 1996 - 1997 - 1998 - 1999 - 2000
4/2004 Pamelyn and husband appear on Penn and Teller's "Bullshit" debunking program on Showtime, on the opening episode talking about PETA. See the Showtime site for a video clip.
5/26/2006 Pamelyn and husband and her husband, Jerry Vlasak, each were convicted on misdemeanor counts of trespassing and targeted demonstration. A city ordinance prohibits a demonstration from occurring within 100 feet of a person's residence.
You can find a great deal of information via Google if you'd like to hear all sides of the issues.
9/12/2006 Pamelyn's voice is said to be part of an upcoming documentary film called "Your Mommy Kills Animals", following the case of the prosecution of the Stop Huntingdon Animal Cruelty web site. It has a Myspace page.
---
Links
Organizations related to Pamelyn Ferdin's activism
Links to this page
Many search engine summaries and other movie databases now point here because of the definitive Ferdin info. Here are sites that mention us:
---
Send us fan e-mail for this page!
Several times a week I receive e-mail from people who've enjoyed this page. Yes, if you send me something, I might place it here, minus any private details. The fan mail section has gotten so large, I've split it into sections. Jump to fan mail page one, two, three or four. Some of these comments are a little wacky. Almost all are heart-felt. I encourage you to read them!
---
Things related to this page
There are Usenet news groups where people reminisce about 60s and 70s pop culture. See alt.culture.us.1960s and alt.culture.us.1970s.

I am shocked at what these people remember. Then again, I still have about two dozen unopened packets of original Pop Rocks, so what do I know?

Here's what I was doing in '68. The parties, the girls, the chocolate milk after recess.
You can get copies of many old television promotional pictures from Jim's TV Collectables.
---

This site is listed on www.Starpages.net
---
This main page has been loaded this many times :

---
Copyright 2006 John Foust (everything that's mine, but not everything else). This page certified "Stalker-Free" by the Alliance of Pretty Tame But Intelligent Guys on the Web (APT-BIG-W)
Other pages served by goJefferson.com, just to help my Google rankings.